We've said it before, and we'll say it again: moving is one of the most challenging situations a person can endure. The packing and unpacking, the moving itself, the getting settled in — it's not the most enjoyable of activities, to say the least. Granted, there is some excitement that can be associated with moving. Some of us see change as the wave that knocks us off our feet, but for many of us, change is a wave that we can't wait to dive into.
Kids are very resilient by nature, and can be very flexible as well, but moving can still be a difficult transition. Changes can be particularly hard when you're a kid, especially when having to think about leaving your friends and your school and starting all over. But the good news is that moving does not (and is not) the end of the world, for us or for our young ones. Scott's Oceana Moving has compiled a list of some of the best ways to help your kids get ready for an upcoming move, in order to make the process go as smoothly as possible. Learn how to help your kids adapt, and call Scott's Oceana Moving for the professional moving services you deserve!
For Kids Under Five:
Having a child (or children) under the age of five will bring an equal set of positives and challenges when it comes to moving. On the bright side, they will have much less of a transition with moving to a new neighborhood. As most children start kindergarten when they are five, starting at a new school will put kids with everyone else who's also starting. For children that aren't quite at school age yet, they will adapt probably even faster, and likely won't really remember moving when they're older.
One of the challenges with younger kids is simply the fact that they are young. They need more support and care and attention, which is hard to do when you're trying to get everything ready for moving day. Check out some of the things you can do to make the move easier for everyone:
Frame the move in a positive way.
Explain that your family will be moving soon, and even more importantly, explain why. Kids are very curious, and will likely already have asked before you're given the chance to tell them! Enact the moving scenario with dolls or toys, and play with your kids to help them grasp the concept of moving. Read books with your kids as well that talk about moving, so that they are prepared as can be for moving day.
Regardless of if they're feeling happy, sad, or any other emotion towards the move, keep it as positive as possible, while still validating their feelings. They will reflect your views towards the move, so stay positive yourself! Talk about how it's totally normal to miss the home, but focus on the adventure and the good that is coming from this move. With kids who are preschool age, making a scrapbook of the soon-to-be-old home might be a great activity, which can produce something they will treasure in the years to come.
Consider getting childcare help.
Whether you're moving across the country or moving across the street, it can be a good idea to get some extra help with watching the kids. If in town, see if you can take them to your babysitter's, or have a friend or family member watch them for awhile so you can take care of business. If trying to move boxes and find the keys with a running-around-toddler or screaming baby in the background doesn't sound ideal, bring in some additional help.
If you're moving to a place where you and your family know no one, see if you can get someone to take the trip with you or meet you all out at the new digs. Worst case scenario, they can't make it and you'll have to watch the kids while moving, which will undoubtedly be challenging, but you'll still get it done. Things always seem to get finished and work themselves out.
This is also beneficial for the kids, especially considering how young they are. With a babysitter, they can have the attention they require met, and it will make moving easier for them (as well as you!)
Hire moving services.
This might be more for a parent's perspective, but when you're happier and stress-free, your kids are too. Our movers and packers can help with packing, unpacking, furniture assembly, and so much more. When you hire Scott's Oceana Moving, you're working with moving services that lessen the many responsibilities you already face as a parent. Talk with the Virginia Beach moving experts today to ease the moving process for the whole family.
For Kids Ages 6 to 12: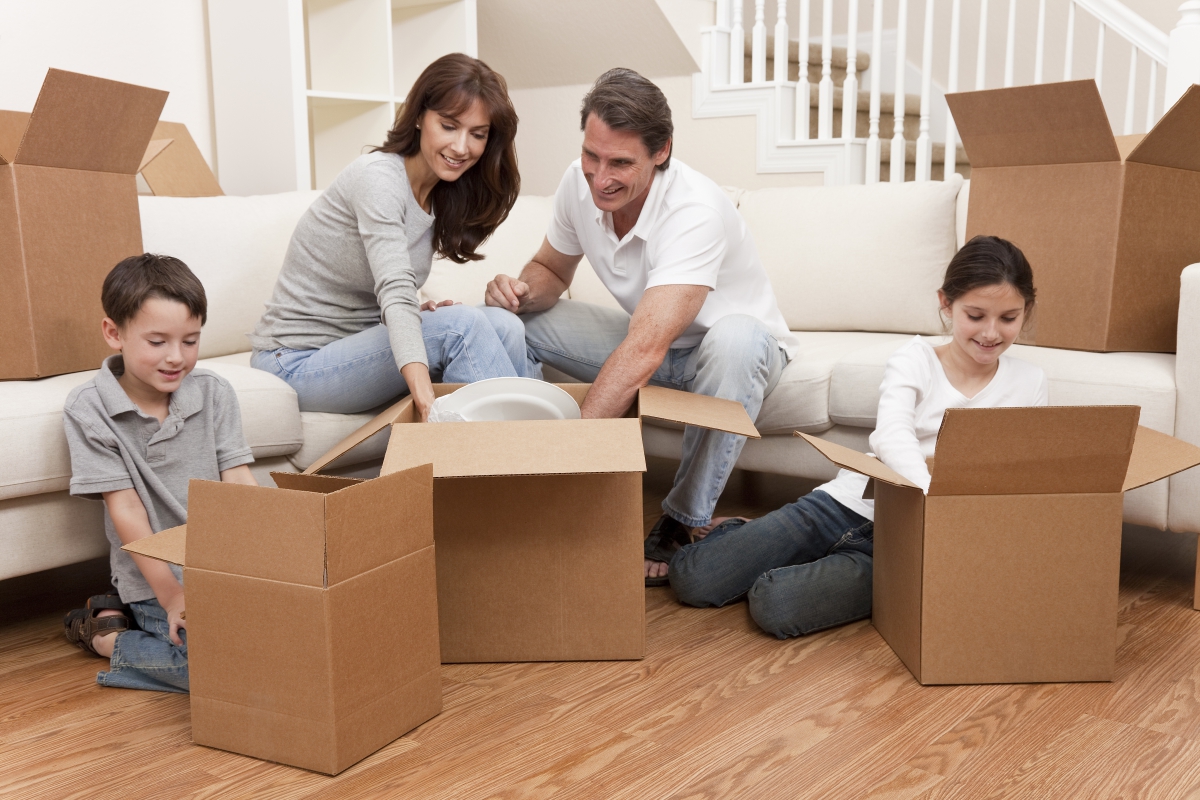 This age group sees a flip from the previously mentioned one. They can help a little bit more with moving, they can be a little more independent, but the social aspect and subsequent transitions are much greater. Like with any tough situation, perseverance makes us stronger, and the same can be said with your 6-to-12-year-olds. Take a look at some of the ways to make moving less painful.
Provide context again and again.
Just like with the younger kids, explain the when and the why of moving as soon as you think is possible. For some kids, they might do better with having an idea of "we might be moving" in their head to better gear up for the situation. Other kids might become stressed with the uncertainty, and it's better to wait to tell them once you know for sure. You know your kids best — reflect and predict on which style of telling them will be the one of least resistance.
For elementary-aged kids, read books with them about moving before bedtime to help start forming some relevant connections for them. Older kids can read independently, but books are an amazing way for us to empathize and undertake situations that are outside of our norm — take them to the library or a bookstore and see what you can find.
Plan a moving movie night with your family (complete with popcorn and snacks) as a great opportunity to connect as a family and talk about the upcoming changes. "Inside Out" is a stellar movie choice that talks about the different emotions we feel, combined with the backdrop of a family that moves. "The Sandlot" is another classic — there are literally so many movies that are awesome examples of moving. Keep the focus on how you are a family, how you'll stick together, and always be encouraging and validating of their feelings.
Bonus tip: Make fun fliers for the event that the kiddos can find at breakfast — amp up the event and they'll not only be excited, they'll be open to talking about everything that's going on.
Familiarize the neighborhood.
There is a delicate balance between adults trying to forge friendship for kids and letting them struggle. If your kids are very young and you encounter parents at the park or in the neighborhood with similarly aged kids, this is probably a good time to talk and discuss a playdate. But if your kids are middle-to-late elementary school, hopefully getting to know their peers and setting up activities has been something you've worked with them on, and they can take some ownership in this (though they should always check with you before going somewhere or inviting people over).
The other thing to consider is that the friendships and everything will happen when your kids are ready for them to happen. It can be so hard to sit back, but they will learn so much in the process, and the best of friendships can't be forced (and especially not by someone else). Encourage your kids by taking them to parks, sign them up for activities they love to do, and the rest will fall into place sooner than you think.
All of this advice is equally relevant for teenagers, who will be the ones who likely struggle the most with the social changes. Differentiate accordingly for your teens, but more than anything, remember that they cherish their independence, but still need support. This might not look like a movie night, but maybe getting breakfast and talking one morning at their favorite spot, or going on a hike that they love. You can encourage and set a good example, but ultimately, they will be the ones who need to make the decisions. More than anything, work towards having a positive relationship with your teens so that they know they can come to you for help and guidance.
Moving is challenging no matter what, but with these tips, your kids have the potential to not only adapt, but thrive. And in order to make the move easier for you, the adult, work with Scott's Oceana Moving to find the expert help you need! Our professional movers and packers are here for you — view our moving services and give us a call for a quote today!